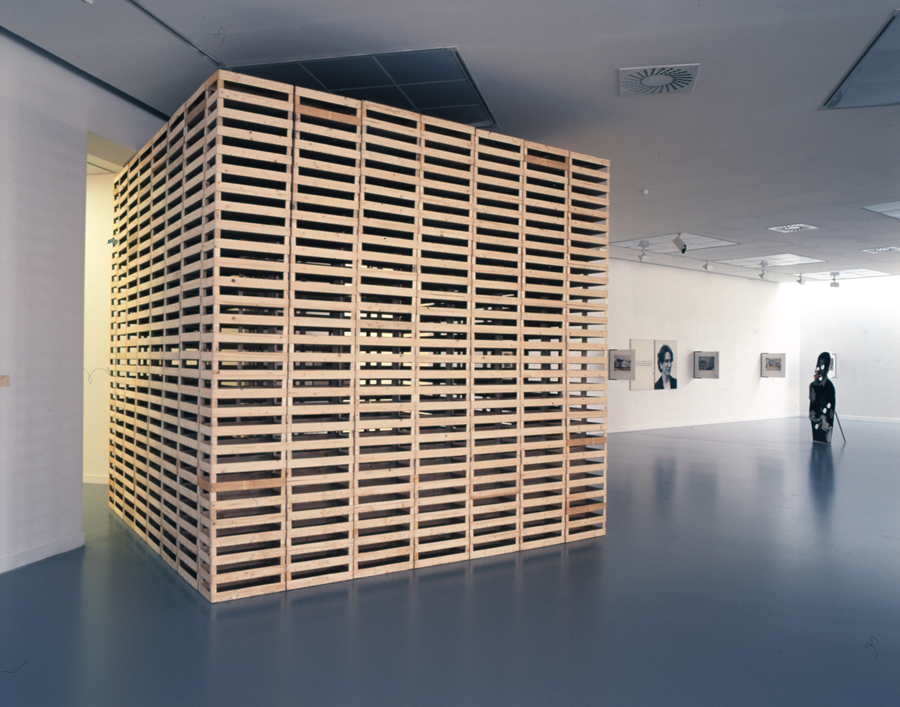 Sans Issue (No exit), 1000 fruit-crates, 400 X 400 X 400 cm.
M HKA COLLECTION XXV
2010, Sans Issue (No exit)
MHKA
Museum of contemporary art of Antwerp
Curated by Bart de Baere
"Firstly, between Pistoletto, Filiou, Candy Nolan and Guy Mees, she takes her own place, immediately positioning herself in good company. She is also inevitable as one of her work virtually blocks the way in the room: a simple geometrical construction of fruit crates, a fragile architecture which stands like an inaccessible tower. Whoever would stand inside the piece would soon feel cloistered. On the wall, a series of advertising billboards from the 50s face interiors models. The happiness of the home within reach! The artist added transparent women on the pictures to the point that they blend with their interior as well as the chores that await them. Aren't they cloistered as well? A mirror-game, Arte Povera (like Pistoletto) to which she ads up-to-date debate concerning recycling. A sharp and critical eye. "